San Antonio, TX –  Jovan Cruz and Kahlid Valencia Killed in Wreck on I-10 Near Hausman Rd
Texas Accident News
San Antonio, TX (March 11, 2021) – San Antonio police responded to the scene of a fatal accident involving a vehicle that went airborne and then overturned multiple times in the eastbound lanes of Interstate 10 on the city's Northwest side at about 2:00 a.m.
When the car finally came to a stop in the area of Hausman Road, police discovered two men dead inside.
The Bexar County Medical Examiner's Office has since identified the two men killed in the accident as Kahlid Valencia, 25, and Jovan Cruz, 24.  
Sources reported that speed was the underlying factor and a major contributor to the collision.  
The eastbound lanes of the interstate were closed down for more than three hours while police investigated the accident.
We would like to offer our deepest condolences to the families of the deceased victims, Mr. Kahlid Valencia and Mr. Jovan Cruz, at this time.
Passenger Fatalities in San Antonio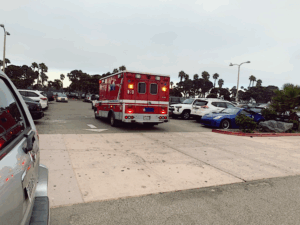 Anytime the injured plaintiff or the respondent dies as the result of a motor vehicle accident in Texas, there is a judicial code that is able to be applied to any subsequent legal claim.
These codes state that even though the injured party died, their estate still has a legal claim against the respondent. The death of the victim does not imply that the negligent driver is somehow exempt from their duty to pay financial compensation to the family or estate of the deceased.
This same statute comes into play if the negligent driver was killed during the accident. Under these circumstances, the claim for damages would instead be brought against the deceased's estate. 
This law is applied in cases where either the injured victim or the at-fault driver, or both, die as a result of the accident. The victim's claim for financial compensation is valid regardless of who died.
After more than 20 years of practicing law, our professional Texas car accident attorneys know exactly what needs to be done in order for your claim to see a profitable resolution. Our personal injury attorneys are very proud of their exceptional legal backgrounds, renowned reputations, and thorough knowledge of Texas' personal injury laws and statutes. 
We have the determination and confidence that you deserve to have on your side and that will help you secure the maximum amount of monetary recovery to which you are entitled under Texas state law. 
If you or someone that you love has recently sustained an injury during a car accident of any kind, the Texas personal injury attorneys at the law offices of Joe Brad Brock are here for you. We have the experience and the legal acumen that will be imperative in ensuring that your personal injury accident doesn't suddenly grow into economic hardship or, even worse, bankruptcy and financial ruin for you and your family members who rely on you.
If you have endured an injury that was caused by the recklessness or negligence of another driver, then we strongly urge you to have your claim examined in depth by a well-respected personal injury attorney. You can get in touch with our law offices by calling (361) 884-1086 and asking to schedule a meeting for a free appraisal of your Texas car accident claim and let our attorneys recommend the most beneficial plan of legal action for your circumstances.
Note: These posts are written with the use of outside sources.  These outside sources include but are not limited to news reports, police reports, police news bulletins, social media posts, eyewitness accounts about accidents in Texas. For this reason, the information provided in this post has not been verified independently by members of our firm or writing team. If you discover any information that is not correct in our post, contact our firm and we will make every effort to correct the information to ensure that our post reflects the most accurate information available. 
Disclaimer: We take pride in being valued members of the local business community in Corpus Christi and are always striving to improve the safety of our fellow community members. While we are always saddened to know that someone was injured in an accident, attorney Joe Brad Brock hopes that through awareness and education, people will take the necessary precautions to avoid being injured in a serious accident like this. The information contained in these posts should not be considered legal advice or medical advice.  This post is not a solicitation for business and should not be viewed as such. The photos used in this post are not representative of the actual crash scene.